On Thursdays, pizza is cooked on a plate at Super Neatza, and in the matinee edition of February 3, 2022, chef Radu Darie cooks three types of pizza and focaccia, all based on the main ingredient Gourmet mozzarella from Delaco.
Very important to the success of a pizza recipe are: dough and mozzarella. If you want your pizza to be a success, like in Italy, gourmet Mozzarella Delaco will make it possible. It's a delicious cheese with a firm texture, perfect for slicing and grating, and it melts like a cookbook.
Follow below the list of ingredients and steps needed to prepare one of the delicious pizza recipes, which Radu prepares in his beloved morning "Super Neatza" dish.
Also read: Focaccia with cherry tomatoes and green olives
Three types of pizza and focaccia – Ingredients
pizza dough
mozzarella cheese
tomato sauce
Basil leave
olive oil
spicy salami, italian
ham porch
Pesto Sauce
Almond flakes
Three types of pizza and focaccia – Method of preparation
Pizza recipes are no longer new to anyone, but how to prepare and shape the dough, as well as the distribution of the ingredients on it, are important for the success of the taste, but also the appearance. they say you eat the pizza first with your eyes, that's how appetizing it looks.
Read also: Today's recipe at Super Neatza, October 28, 2021 prepared by Vlăduț – Pizza with ham and pomegranate and Pizza with minced meat
Chef Radu Darie prepares the simplest and most beloved Italian pizza, namely: pizza Margherita. This is a pizza that consists, in addition to the much-needed dough, tomato sauce, mozzarella and basil leaves. Stretch the dough by rolling it out with your hands from the center to the edges, so that the air escapes from the center and stays at the edges. The edges of the dough will expand and become crispy as it bakes. The center will be smeared with tomato sauce, and the top will be spoiled with large chunks of Gourmet mozzarella and basil leaves.
Margerita pizza baked at a temperature of 250 degrees Celsius, for 7-8 minutes. Starting with this simple pizza recipe, Radu juggles the ingredients and adds thin slices of spicy Italian salami to his next pizza.
Read also: Today's recipe prepared by Vlăduț at Super Neatza, October 21, 2021. Pizza with ham is prepared in four ways
How to make focaccia pizza
For this recipe, Radu cuts crosswise, in half, homemade sticks, also made from pizza dough and baked in a skillet. Spread tomato sauce on the bottom, add mozzarella, sliced ​​ham, pesto sauce, and parmesan. Cover with the second half of pasta and bake for 7-8 minutes at 250 degrees Celsius.
This focaccia is delicious, with a creamy inside of melted mozzarella and extra sauce, and an incredibly crunchy skin.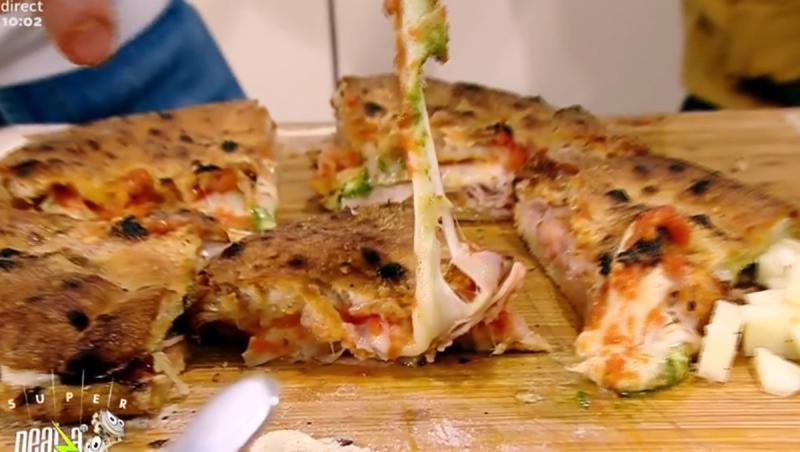 For more details on how to prepare all three types of pizza and focaccia, but also to learn chef Radu Darie's many tricks for successful preparation, access the video material above.
What are the main qualities of a woman according to her inner vibration. What numerologist Corina Stratula says… Why Răzvan Simion and Ramona Olaru were absent from Superneatza with Răzvan and Dani: "Today is a day like never before"…