The magical UNTOLD universe opened its doors yesterday to a new chapter, the seventh in the story to life, on the first day of the festival, by more than 85,000 attendees from around the world. Cluj-Arena is a venue that offers several premieres prepared by the creators of UNTOLD.
Denmark's MORTEN, marking the strongest new entry in the DJ Mag Top 100, straight at number 39, rocked the scene on UNTOLD's main stage with his Future Rave sound.
"I really wanted to get here! I saw drone footage by my good friend David Guetta and was blown away. Now I'm here, part of this amazing story! UNTOLD ranks fifth in the world? Are you sure? It's in the top three festivals in the world!", said MORTEN.
The DJ set from Dane, an artist who laid the foundations of a new genre in electronic music, FUTURE RAVE, excites tens of thousands of fans of the UNTOLD festival. From remixes of the classic "Titanium" to hits released with his partner, David Guetta, "Impossible", "Kill Me Slow", "Never Be Alone", "Permanence" or "Make It" To Heaven", every moment live MORTEN is pure energy.The DJ walked into the midst of the UNTOLD fans, danced with them and ended his moment on the main stage by thanking the fans for their support and wonderful energy.
recommendation
Alexandru Arșinel, hospitalized. Actors in Intensive Care
The first day of UNTOLD 2022 is a very special day. Gaz pe Foc, Irina Rimes and INNA took the main stage. More than 85,000 attendees from around the world experienced the magic of UNTOLD on the first day of the festival, said the organizers of the Untold 2022 festival.
Announcement made by INNA on stage at UNTOLD
INNA comes straight from Tomorrowland and delights fans with its trail. On stage, the singer announced that she would collaborate with Timmy Trumpet, but also a collaboration with her boyfriend Deliric. "I will be releasing a song in collaboration with Timmy Trumpet. I am very happy. Also, I am announcing now for the first time that I will be making a song with my girlfriend Deliric", INNA said at the end of the concert.
Steve Aoki throws torment at UNTOLD 2022
"UNTOLD, next year I will ask for 30 cakes because 10 is not enough!", these are Steve Aoki's words after the traditional song "Cake Me!", one of the most eagerly awaited moments of DJ sets in the United States.
Steve Aoki, in the 10 greatest DJs in the world, according to DJ Mag Top 100, prepared a special set, specially made for fans of the UNTOLD festival, where he also presented the premiere, "The Whistle". single, a song he worked on with Timmy Trumpet.
recommendation
REPORT. After 12 years in London, two young Romanian decide to go home, but something changes their plans at the last moment: "In the first years, I would say I was integrated, now I don't know if I was right"
"I am very attached to this festival, it helped me a lot in my career. It helped me grow as an artist, and for that, thank you!" said Aoki, who also created Yat, a series of one to five emoji that can be used as a digital username, for the festival UNTOLD: Count Dracula, a wizard, musical note and an alchemist.
Taking to the main stage of the UNTOLD festival, Claptone was greeted with enthusiasm at the festival's opening ceremony, with many DJ fans wearing gold masks associated with Germany's hidden identity. Another UNTOLD festival premiere is the British trance act Above & Beyond.
"If you also saw what we saw from here on stage, you would know that there is only one word to describe that moment: EPIC", this is a message sent to fans by Above & Beyond members.
Romania's most famous artists arrive at Cluj-Arena, INNA puts on a live show where everyone from the main stage sings and dances with the artist who broke the views on YouTube. Irina Rimes, Sororile Osoianu and David Ciente managed to bring out authentic Romanian emotions with live performances that combined elements from Romanian folklore with elements from pop and electronic music.
recommendation
Prosecutors apologize to victims of sexual harassment
The UNTOLD experience was completed on the main stage by Partydul Kiss FM which offered a moment of surprise: the reunion after 20 years of the band Gaz pe Foc. The main stage event ended with the performance of Manuel Riva.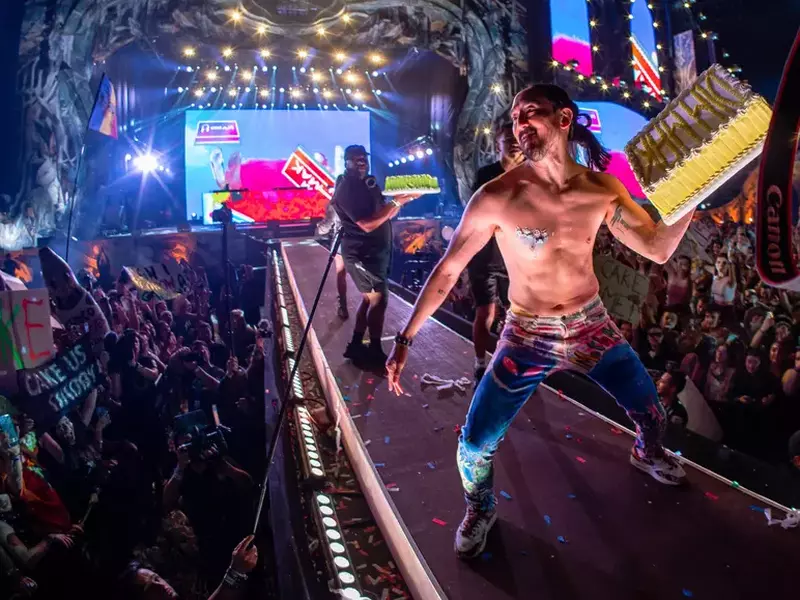 SEE GALLERY PhotoPICTURE 1 / 7
TOP artists on secondary stage at UNTOLD 2022
Artists from Galaxy, Alchemy, Daydreaming, Fortune, Time, Tram, and Retro Party gathered tens of thousands of fans on the first day of UNTOLD.
Alchemy Stage is made especially for lovers of the rap, trap, breakbeat or dubstep genres.
The Parasites, Macanache, uie Paparude, Mario Glass & Bvcovia are included in their inaugural live track for UNTOLD fans, Groove Hustlaz, French Malaa and Noisia, in the DJ Set formula, activating one of the festival's most beloved stages.
UNTOLD offers each edition a diversity in musical styles, and underground techno culture has a stage at the festival. On the first day, the Galaxy stage arrived: DJEFF, Mahony, Raresh and Jamie Jones B2B Loco Dice.
UNTOLD 2022 festival live stream
This festival can be watched online, in live streaming format, from all devices, just by accessing the festival's official website, uncountable.com/livestream.


Follow us on Google news
GSP.RO
He had an affair for 16 years with Vica Blochina, but he has been by his side for more than 30 years. What Victor Pițurc .'s wife looked like
Playtech.ro
Carmen Iohannis Mistakes at Buckingham Dinner! This is a laughing stock, that's not how it works! Everyone pays attention to the details…
Viva.ro
Who is Visarion Alexa's wife, the priest accused of sexual abuse. What was found about him
Observatornews.ro
The disease has sent hundreds of children to doctors. If not treated on time, the patient may end up in Intensive Care
stirileprotv.ro
A woman disappeared, leaving her husband and children at home. On his return he lied to everyone, including the FBI. Where is he really?
FANATIC.RO
Five zodiac signs that can surprise you at the end of the week. The stars are on their side
Orangesport.ro
What happened to some of the Bucharesters after they went to the ethnic Hungarian area! "We were scared, we were warned. The world told us". Stunned, one of them said what happened
HOROSCOPE
September 21, 2022 horoscope Sagittarius receives a different kind of fuel today, one that fuels pride and can accentuate selfishness
advertisement
Zenbook Pro 14 Duo OLED (UX8402): the device you don't want to separate