Refreshing cake, ready in less than an hour
Step by step recipe
Refreshing Lemon Yogurt Cake, No Toast
In this period when the thermometer temperature rises by the day, housewives avoid making candy full of cream, nausea or those that require the use of the oven, so if you're looking for a refreshing dessert, we've got the solution! You have to try the lemon yogurt cake!
Material: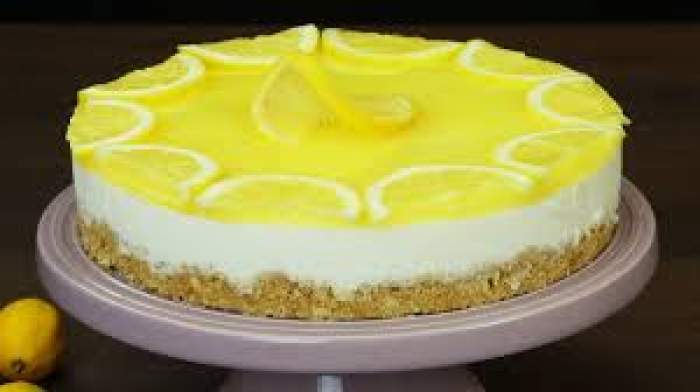 – 200 grams of biscuits
– 100 grams of butter
– 170 grams of sugar
– 300 grams of Greek yogurt
– 250 grams of whipped cream
– 200 grams of cream cheese
– 130 ml of lemon juice
– 10 grams of gelatin
– 100 ml of water
– 100 ml orange juice
– 15 grams of flour
– a lemon
Preparation method:
Mash the biscuits with a rolling pin, then put them in a bowl and mix with the melted butter. Put the mixture in a removable form and press down well with a spoon.
Beat the cream until it becomes solid, and in another bowl, add the yogurt, cream cheese, 100 grams of granulated sugar and mix well, then add the whipped cream gradually and stir until thoroughly combined.
Squeeze the juice from the lemon and hydrate the gelatin in cold water. Then, put the lemon juice and gelatin in a suitable saucepan and let it simmer over low heat until dissolved. Place the mixture in a bowl of cream cheese and mix well, then pour the resulting cream over the biscuits. Mix well and refrigerate for 3 hours.
Meanwhile, make jelly, so put 100 ml of lemon juice, orange juice, 70 g of sugar and starch in a bowl and mix well with a whisk. Let stand on low heat and stir constantly until thickened.
Once cooled a bit, pour over the cake that has hardened. The lemon cake with yogurt is refrigerated for another 30 minutes, until the jelly hardens, and then you can serve it with your loved ones. Good appetite!
READ ALSO: Check Bilbolbul. Simple recipe without butter, oil and eggs